THE EFFECTIVENESS OF CONTEXTUAL TEACHING AND LEARNING TO TEACH READING COMPREHENSION VIEWED FROM STUDENTS' INTELLIGENCE
Kitri Katon Peni

SMPN 3 Surakarta Jl. Kartini No. 18, Timuran, Banjarsari, Surakarta, Indonesia Email: kitrikatonpeni@gmail.com
Abstract views:
401
,
PDF downloads:
296
Keywords:
Reading Comprehension, Contextual Teaching and Learning, Intelligence
Abstract
The research examines: (1) the effectiveness of Contextual teaching and learning (CTL) compared to grammar translation method in teaching reading, (2) effect of intelligence quotient to reading comprehension, and (3) interaction between teaching methods and the  intelligence in teaching reading. The research was carried out at SMPN 14 Surakarta, using the  experimental design assigning 72 students as sample.  Data were collected using the documentary and test technique. To analyze the data, Multifactor Analysis of Variance (ANOVA) test of 2x2 and Tukey test were used. The results show that: (1) CTL was more effective than grammar translation method in teaching reading, (2) the students having high intelligence quotient had better reading comprehension than those having low intelligence, and (3) interactions occur between teaching methods and intelligence in teaching reading.
Downloads
Download data is not yet available.
References
Ahmad, Zakia. 2006. Reflection and the Teaching of Reading. Available at nepjol.info/nepal/index.php/NELTA/article/download/3129/2730 Accessed on June 9, 2011
Departemen Pendidikan Nasional Direktorat Jenderal Pendidikan Dasar dan Menengah. 2003. Pendekatan Kontekstual, Jakarta
Grellet, Francoise. 1998. Developing Reading Skills. Cambridge: Cambridge University Press.
Husein, Torsten and Postlehwaite T. Neville. 1994. The International Encyclopedia of Education vol. 8. London: BPC Wheaton Ltd.
Kennedy, Eddie C. 1981. Methods in Teaching Developmental Reading (second edition). Itasca: F. E. Peacock Publisher, Inc.
Nurhadi & Senduk, A. G. 2003. Pembelajaran Kontekstual dan Penerapannya dalam KBK. Malang: Penerbit Universitas Negeri Malang
Smith, Nila B and Robinson, H Alan. 1980. Reading Instruction for Today's Children. Englewood Cliffs: Prentice Hall, Inc.
United States Department of Education Office of Vocational and Adult Education, 2001
Wehrli, G. and Nyuquist, J.G. 2003. Teaching Strategies/Methodologies. Available at http;hsc.unm.edu/som/ted/TEACHING%20 STRATEGIES .pdf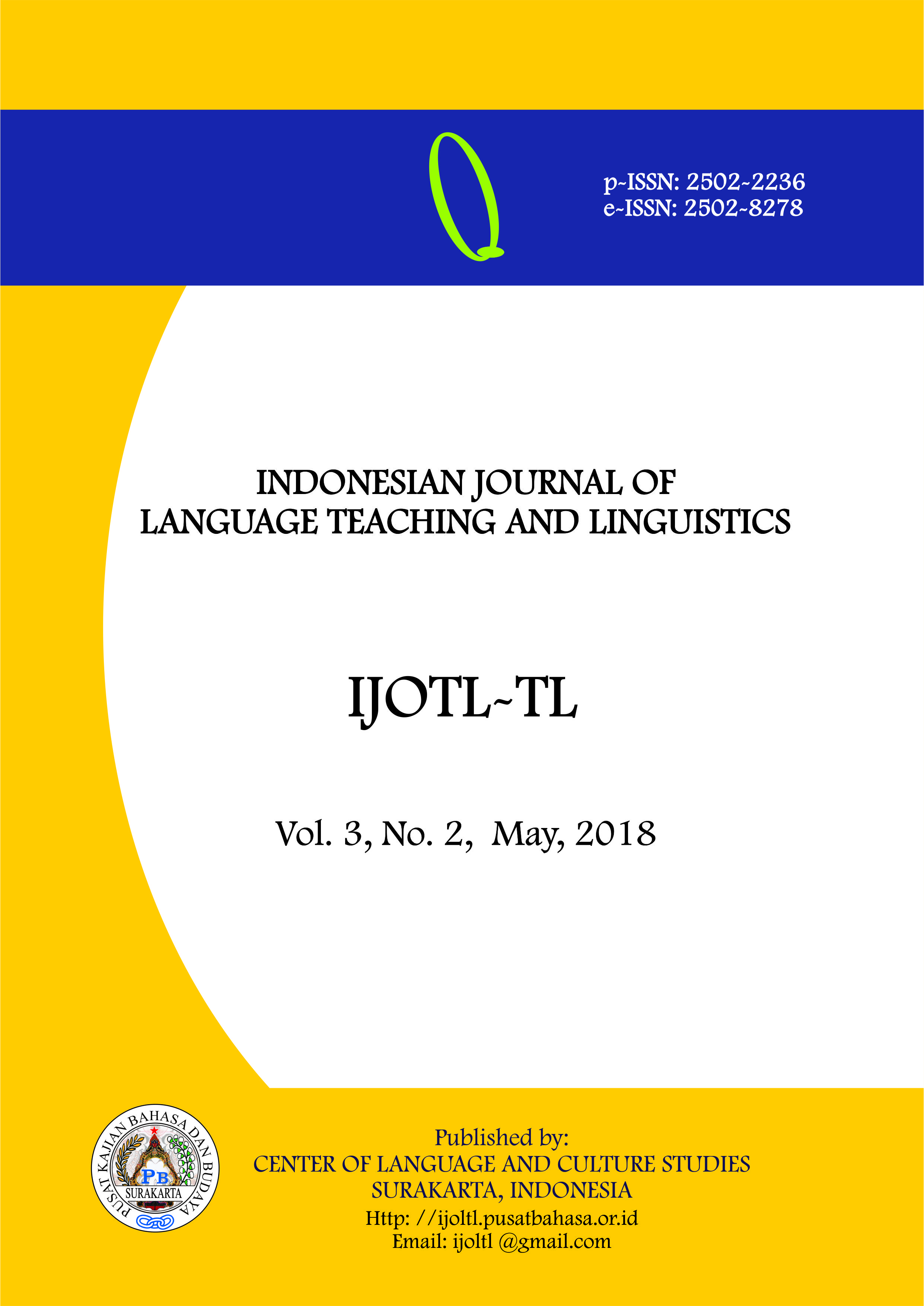 How to Cite
Peni, K. K. (2018). THE EFFECTIVENESS OF CONTEXTUAL TEACHING AND LEARNING TO TEACH READING COMPREHENSION VIEWED FROM STUDENTS' INTELLIGENCE. IJOTL-TL: Indonesian Journal of Language Teaching and Linguistics, 3(2), 119-132. https://doi.org/10.30957/ijoltl.v3i2.451
Authors who publish with this journal agree to the following terms:
Authors retain copyright and grant the journal right of first publication with the work simultaneously licensed under a Creative Commons Attribution-ShareAlike 4.0 International License that allows others to share the work with an acknowledgement of the work's authorship and initial publication in this journal.
Authors are able to enter into separate, additional contractual arrangements for the non-exclusive distribution of the journal's published version of the work (e.g., post it to an institutional repository or publish it in a book), with an acknowledgement of its initial publication in this journal.
Authors are permitted and encouraged to post their work online (e.g., in institutional repositories or on their website) prior to and during the submission process, as it can lead to productive exchanges, as well as earlier and greater citation of published work (See The Effect of Open Access).