Concept Analysis of Kalinaw among Cebuano Speakers Using Kawakita Jiro Method
Joseph E. Padilla

Department of Liberal Arts and Behavioral Sciences (DLABS) Visayas State University, Visca, Baybay City, Leyte, Philipines

Corazon A. Padilla

Department of Liberal Arts and Behavioral Sciences (DLABS) Visayas State University, Visca, Baybay City, Leyte, Philipines
Abstract views:
138
,
pdf downloads:
182
Keywords:
Cebuano speakers, Kalinaw, Kawakita Jiro (KJ) Analysis, Manifestation, State of being, Context
Abstract
The way people think and perceive things significantly affects their view of the world and their behavior towards it. To gain a deeper understanding of how they construct and interpret meanings, it is imperative to examine how people build and associate a particular concept. In this study, the researchers delved into people's perception and understanding of the concept of Kalinaw which is a Cebuano term associated with the English word peace. Responses of 100 conveniently selected participants from a researcher-made questionnaire were listed, tallied, and ranked. Moreover, the researchers utilized Kawakita Jiro (KJ) Analysis as a framework to determine relationships of coded items by sorting and clustering based on their relatedness, similarities, and connection to construct themes and sub-themes. Results show that kalinaw is understood as 1) internal, external, relational, and spiritual manifestations, 2) internal and external state of being, and 3) natural, social, self, spatial, temporal, and situational context. This suggests that people's concept of kalinaw is relative to the varying areas or contexts and is constructed by the combination of multiple social factors at the individual, social, spiritual, political, environmental, and cultural levels.
Downloads
Download data is not yet available.
References
Darnton, Geoffrey (1973), "The Concept
," Proceedings of the International
Peace Research Association Fourth General Conference, 105-116

Hall, Robin (1993), "How Children Think and Feel about War and Peace: An Australian Study," Journal of Peace Research, 30(2), 181-196

http://www.rohrzimbabwe.org/causes/rohr-peace/
(n.d.). Retrieved from Restoration of Human Rights (ROHR) Zimbabwe:

Inner peace. (2018, March 14). Retrieved from wikipedia.org: https://en.wikipedia.org/wiki/Inner_peace

Newsletter, W. P. (2018). Peace Introduction. Retrieved from PeaceEducation101.com: http://www.peaceeducation101.com/

Peacebuilding, E. C. (2015). Addressing the Role of Natural Resources in Conflict and Peacebuilding. United Nations Environment Programme. Nairobi, Kenya.

Reardon B (1988) Comprehensive Peace Education: Educating for global responsibility.

Rinehart, M. (2005). Toward Better Concepts of Peace. University of Colorado, Beyond Intractability. Eds. Guy Burgess and Heidi Burgess. Conflict Information Consortium, Boulder. Retrieved from http://www.beyondintractability.org/essay/peace

Rummel, R. (1981). UNDERSTANDING CONFLICT AND WAR: VOL. 5: THE JUST PEACE. Retrieved from https://www.hawaii.edu/powerkills/TJP.CHAP2.HTM

Simbulan, N. P., & Rhoda Viajar. (2007). Human Rights and Peace Education to Strengthen Tri-People Relations in Southern Philippines. Human Rights Education in Asian Schools.

Vogel, R. d. (2013). Young and Green Peace. Den Haag, Netherlands.

Wolff, J. U. (2012). A Dictionary of Cebuano Visayan. Cornell University.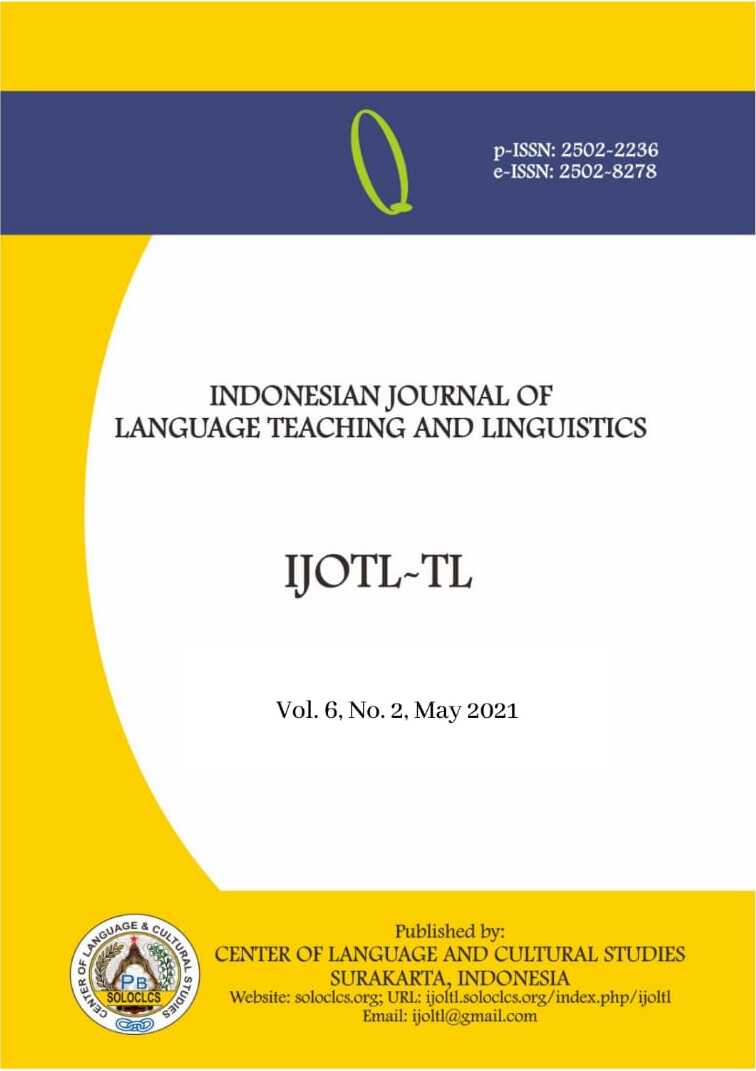 How to Cite
Padilla, J. E., & Padilla, C. A. (2021). Concept Analysis of Kalinaw among Cebuano Speakers Using Kawakita Jiro Method. IJOTL-TL: Indonesian Journal of Language Teaching and Linguistics, 6(2), 125-139. https://doi.org/10.30957/ijoltl.v6i2.675
This work is licensed under a Creative Commons Attribution-ShareAlike 4.0 International License.
Authors who publish with this journal agree to the following terms:
Authors retain copyright and grant the journal right of first publication with the work simultaneously licensed under a Creative Commons Attribution-ShareAlike 4.0 International License that allows others to share the work with an acknowledgement of the work's authorship and initial publication in this journal.
Authors are able to enter into separate, additional contractual arrangements for the non-exclusive distribution of the journal's published version of the work (e.g., post it to an institutional repository or publish it in a book), with an acknowledgement of its initial publication in this journal.
Authors are permitted and encouraged to post their work online (e.g., in institutional repositories or on their website) prior to and during the submission process, as it can lead to productive exchanges, as well as earlier and greater citation of published work (See The Effect of Open Access).