READINESS OF TEACHING AND LEARNING ENGLISH AT ELEMENTARY SCHOOLS IN MATARAM CITY
Lalu Suhirman

Cenderawasih University, Jayapura, Papua
Abstract views:
205
,
PDF downloads:
184
Keywords:
readiness, English, elementary school.
Abstract
This research is aimed at describing the readiness of teaching-learning English at elementary school (ES) in Kodya Mataram, accentuating on perception of respondents; English teacher's qualifications; the availability of English techer and teaching facility; students' interest of study English; and constrains in English instruction. This survey assigns its subjects to 14 principals without EP, 49 parens of children's schools with EP, and 55 parents of children's schools without EP. The instruments used to collect data are questionnaire, interview guide, and observation form. The study reveals that (1) most respondents in each group are ready to teach English at ES; (2) English teachers' qualification meet the criteria; (3) Of 30 ES without EP, 7 (23.33%) are ready, English text books for ES with are categorized mostly ready; and (4) Students at ES with are mostly ready. In addition, 9 (30%) of students at 30 non-ESP schools are totally not ready.
Downloads
Download data is not yet available.
References
Allen, J.P.B. 1984. General Purpose Language Teaching : A Variable Focus Approach: in C. J. Brumfit, (Ed) General English, Syllabus Design. New York : Pergamon Press.
Ansyar, M. & Nurta'in, H. 1993. Pengembangan dan Inovasi Kurikulum.Jakarta : Depdikbud, Drijen Dikti, Proyek Pembinaan Tenaga Kependidikan.
Astika, G. 1996. Proses Interaksi Belajar Mengajar dalam Pembelejaran Bahasa Inggris di Beberapa Sekolah Dasar di Jawa Tengah dan Yogyakarta. Jurnal Penelitian Pendidikan Dasar, (1) I : 1-17. Yogyakarta : Lembaga Penelitian IKIP Yogyakarta.
Baradja, M.F. 1992. Perkembangan Teori Pemerolehan Bahasa Kedua dalam Kaitannya dengan proses Belajar Mengajar. Forum Penelitian, Th. 4. No.1 dan 2.
Brown, H.D.1980. Principle of Language Learning and Teaching. New Jersay : Prentice Hall, Inc.
Cook, V. 1991. Second Language Learning and Language Teaching. London : Edward Amold.
Depdikbud, 1994.Kurikulum Muatan Lokal Pendidikan Dasar Propinsi Nusa Tenggara Barat : Pedoman Pelaksanaan. Mataram : Kanwil Depdikbud Propensi NTB.
Dekdikbud.1994. Kurikulum Pendidikan Dasar Lampiran II GBPP SLTP Maka Pelajaran Bahasa Inggris. Jakarta : Depdikbud.
Depdikbud. 1989. Sistem Pendidikan Nasional UU No. 2 Tahun 1989. Pt. Armas Duta Jaya.
Els, T.V. 1984. Applied Linguistics and the learning and Teaching of Foreign Laguage. London : Edward Arnold.
Finn, F. J.1993. Helping Children Learn Language Art. New York and London : Logman.
Freeman, D.L & Michael, H.L. 1991.An. Introduction to Language Axcquisition Research. New York : Longman Inc.
Halliwell, S. 1992. Teaching English in the Primary Classroom. New York. Longman Group Limited.
Huda, Nuri. 1997. A. National Strategy in Achieving English Communicative Ability: Globalization Perspective Jurnal Ilmu Pendidikan, Volume 4, diterbitkan oleh IKIP, STKIP dan ISPI.
Hutasoit, M. 1954. Compulsory Education in Indonesia. Unesco, Printed in the Netherland.
Ilg, F.L & Ames, L.B. 1965. School Readiness. New York : Harper and Row Publishers.
Ingram, D.E. 1980. Aspect of Personality Development for Bilingualism. Ini Afendras (Ed) Pattern of Bilingualism. SEAMEO Regional Language Center. Singapore : University Press.
Jarolimek, J.1982.Social Studies in Elementary Education. Sixth Education. New York : MacMillan Publishing Co., Inc.
Jasin, A. 1987. Pembaharuan Kurikulum Sekolah Dasar : Sejak Proklamasi Kemerdekaan. Jakarta : Balai Pustaka.
Kasbolah, K. 1993b. Some Considerations for the Decision Makers in Designing English for Children Program : Syllabus, Materials, and Qualified Teachers, A. Paper presented on English Week, English Departement FPBS IKIP Malang, Nov. 8.
Kasbolah, K. 1995. Bahasa Inggris di Sekolah Dasar : Mata Pembelajaran Muatan Lokal, Teknik dan Media Pengajaran. Bahan kursus pendalaman Materi Guru inti PKG Bahasa Inggris FPBS IKIP Malang 5 s.d 24 November.
Kasbolah, K. 1998. English for young Learners : Teacher – based Evaluation. Presented on Workshop on Testing and Evaluation of English for Young Learners, The British Council – ITS English Study Centre-IKIP Malang, 20 March.
Keputusan Menteri Pendidikan dan Kebudayaan RI No. 060/U/1993 tentang Kurikulum Pendidikan Dasar, Landasan, Program dan Pengembangan. 1993. Jakarta Drijen Dikdasmen Depdikbud.
Kranke, K. 1987. Approches to Syllabus Design for Language Teaching Englewood Cliffs Prentice Hall.
Kusbandiani, 1994. Beberapa Catatan Kritis GBPP SD 1994. Majalah Wahana IKIP PGRI Surabaya Edisi 13 Mei, Tahun VI
Linfors, W.J. 1987. Children's Language and Learning (2nd Ed). Boston : Prentice Hall. Materials at Elementary Schools in Kadya Malang. Thesis tidak diterbitkan. Malang: Program Pascasarjana IKIP Malang.
Muth'im, A. 1996. The Perception on Community Toward the Teaching and Learning English at Elementary School in Kodya Banjarmasin. Thesis tidak diterbitkan Malang: Program Pascasarjana IKIP Malang.
Mutmainnah, N., Rachmajati, S & Iragiliati, E. 1996. Survai Kesiapan Sekolah Dasar di Kodya Malang dalam Memberikan Pengajaran Bahasa Inggris Menurut Kurikulum 1994. Malang : Lembaga Penelitian IKIP Malang.
Nunan, D.E. 1986. Principle of Communicative Task Design. In Bikram, K. Das (Ed) Materials for Language Learning and Teaching. Antology Series 22. Singapore: SEAMEO Regional Language Center.
Pascasio, E.M. 1980. Language Attitudes and Motivations of Filipino Bilinguals Toward Philipino and English. In Afendras (Eds) Pattern of Bilingualism. SEAMEO Regional Language Center. Singapore : University Press.
Rahayu, S. 1996. Studi Tentang Pelaksanaan Pengajaran Bahasa Inggris SD Kelas IV, V dan VI Kota Madya Blitar Cawu 1 Tahun Ajaran 1996/1997. Malang : Lembaga Penelitian IKIP Malang, Unpublished.
Rohmah, Z. 1995. A comparative study on the English Proficiency of the students of SDN Percobaan Malang and SD Dharma Wanita IKIP Malang. Skripsi unpublished. FPBS IKIP Malang.
Rosentgrant, T & Bredekamp, S. 1993. Planning and Implementing Transformational Curriculum. In Rosentgrant & Berdekamp (Eds) Reaching Potencials. Appropriate Curriculum and Assessment for Young Children. Washington Dc. National Association for the Education of Young Children.
Sadtono, E. 1995. Perspektif Pengajaran Bahasa Inggris di Indonesia. Malang : FPBS IKIP Malang
Silalahi, R.S. & Taslim, F.H. 1997, 27 November. Rumitnya Penyelenggaraan Pendidikan Dasar di Jakarta. Jayakarta.
Stravens, P. 1977. New Orientations in the Teaching of English. Oxford: University Press.
Winarni. I. 1987. A Descriptive Study on the Techniques and Materials in teaching English to Children in Some Elementary Schools in Malang. Unpublished Tehsis. Malang: FPBS IKIP Malang.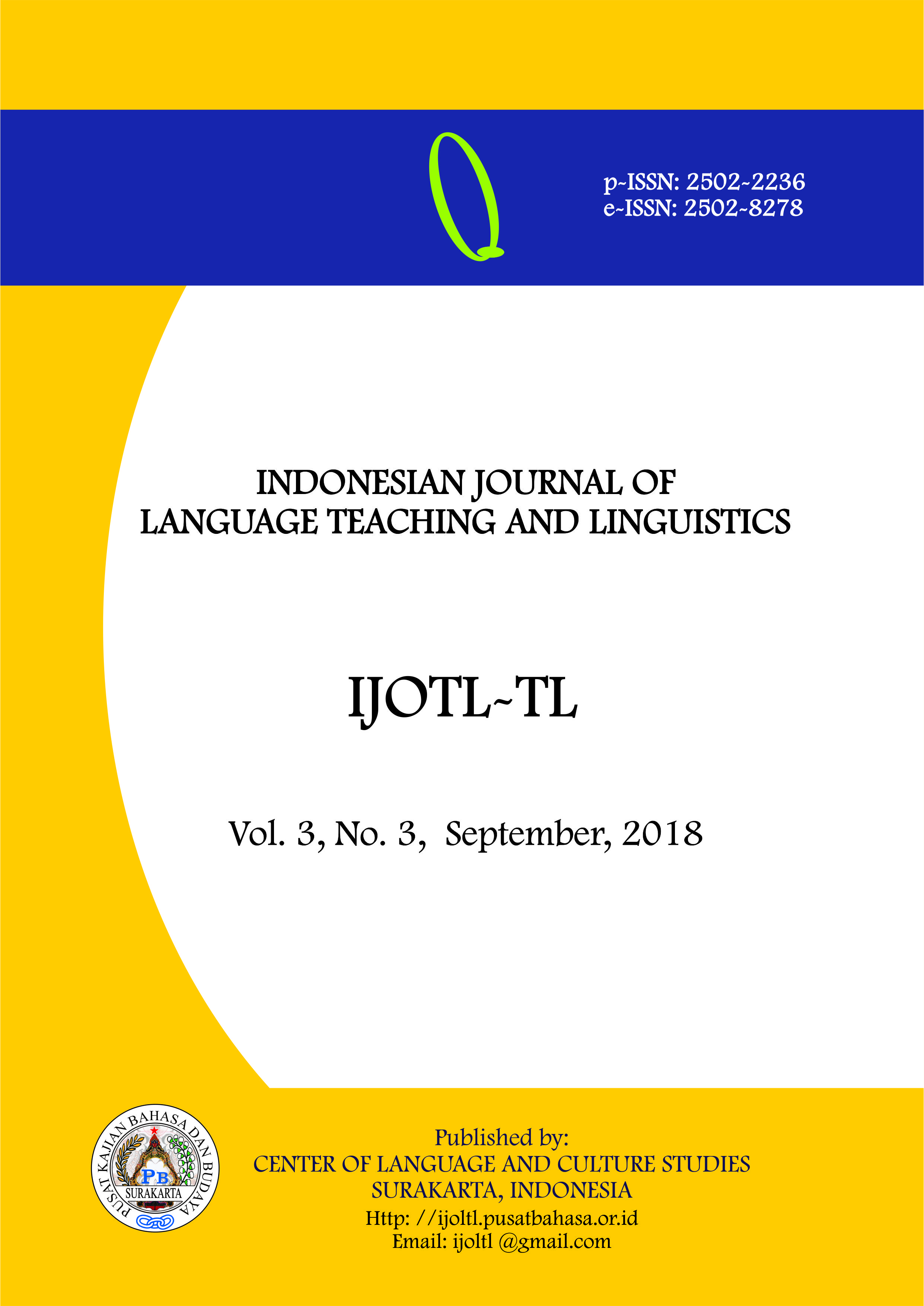 How to Cite
Suhirman, L. (2018). READINESS OF TEACHING AND LEARNING ENGLISH AT ELEMENTARY SCHOOLS IN MATARAM CITY. IJOTL-TL: Indonesian Journal of Language Teaching and Linguistics, 3(3), 85-96. https://doi.org/10.30957/ijotl-tl.v3i3.500
Copyright (c) 2018 IJOLTL: Indonesian Journal of Language Teaching and Linguistics
This work is licensed under a Creative Commons Attribution-ShareAlike 4.0 International License.
Authors who publish with this journal agree to the following terms:
Authors retain copyright and grant the journal right of first publication with the work simultaneously licensed under a Creative Commons Attribution-ShareAlike 4.0 International License that allows others to share the work with an acknowledgement of the work's authorship and initial publication in this journal.
Authors are able to enter into separate, additional contractual arrangements for the non-exclusive distribution of the journal's published version of the work (e.g., post it to an institutional repository or publish it in a book), with an acknowledgement of its initial publication in this journal.
Authors are permitted and encouraged to post their work online (e.g., in institutional repositories or on their website) prior to and during the submission process, as it can lead to productive exchanges, as well as earlier and greater citation of published work (See The Effect of Open Access).