CRITICAL DISCOURSE ANALYSIS ON DONALD TRUMP'S STRATEGY AGAINST HIS ADDRESSEE TO WIN THE US ELECTION
Sujito sujito

IAIN Surakarta

Indriana Indriana

University of Kanjuruhan Malang

Wildan Mahir Muttaqin

IAIN Surakarta
Abstract views:
669
,
pdf downloads:
417
Keywords:
Critical Discourse Analysis (CDA), Political Discourse, Discursive Structures
Abstract
Critical Discourse Analysis (CDA) deals with long term analysis of fundamental causes and consequences of issues. This paper is an attempt to explain how a single issue, that is the US presidential election, is correlated by the existence of jihadist militant and manipulated using political ideology. This study also examines the persuasive strategies of Donald Trump to win the US 2016 Election. In this study, van Dijk's (2004) frameworks of Politics, Ideology, and Discourse is used to detect discursive structure within the transcript of Donald Trump's speech and analyze the manner in which language can be a tool at the hands of speakers to persuade and create agreement toward the hearer. The macro strategy of positive self-representation and negative other representation, plus the other 25 more subtle strategies has become one significant way in the creation and neutralization of ideology and personal opinion. The application of this dichotomous categorization in CDA of Donald Trump's strategy toward his addressee to win the US election has asserted the fact that ideological manipulations are used, expressed, enacted and implanted through discursive structures to persuade the audiences. The findings of this study can be conducive to expand students' critical thinking abilities in comprehension and production of language and also in revitalizing the neglected construct of language proficiency.
Downloads
Download data is not yet available.
References
Hornby, A.S. 2004. Oxford Advanced Learner's Dictionary. London: Oxford University Press.
http://dictionary.reference.com. Accessed on 13 November 2016.
http://thehill.com/blogs/pundits-blog/presidential-campaign/291498-full-transcript-donald- trump-addressee-radical. Accessed on 10 November 2016.
http://www.merriam-webster.com/dictionary. Accessed on 13 November 2016.
http://www.youtube.com/watch?v=zy7eX2W76Tw. Accessed on 10 November 2016.
Rahimi, A. & Sahragard, R. 2006. The Linguistics Journal. Critical Discourse Analysis:Euphemization and Derogation on the Emails Written on the Death of the Pope. Vol. 1(2): 29-87. Accessed on 13 November from http://www.researchgate.net/ Publications/266080999.
Rahimi, A. & Sahragard, R. 2007. Critical Discourse Analysis. Tehran: Jungle Publications.
Teittinen, M. 2000. Power and Persuasion in the Finnish Presidential Rhetoric in the Early 1990's. Accessed on 13 November 2016 from http://www.natcom.org/conferences/ findland/mariteittinen.
Van Dijk, T.A. 1998. Ideology: A Multidisciplinary Approach. London: Sage Publications.
Van Dijk, T.A. 2004. Politics Ideology and Discourse. Accessed on 14 November 2016 from http://www.discourse-in-society.org/teun.html.
Van Dijk, T.A. 2008. Discourse and Power. United Kingdom: Palgrave.
Widdowson, H. 2000. Applied Linguistics. On the Limitations of Linguistics Applied. 21 (1): 3-25. Accessed on 14 November 2016 from http://m.applij.oxfordjournals.org/ content/21/1/3.abstract.
Wodak, R. & Meyer, M. 2009. Methods for Critical Discourse Analysis. London: Sage Publications.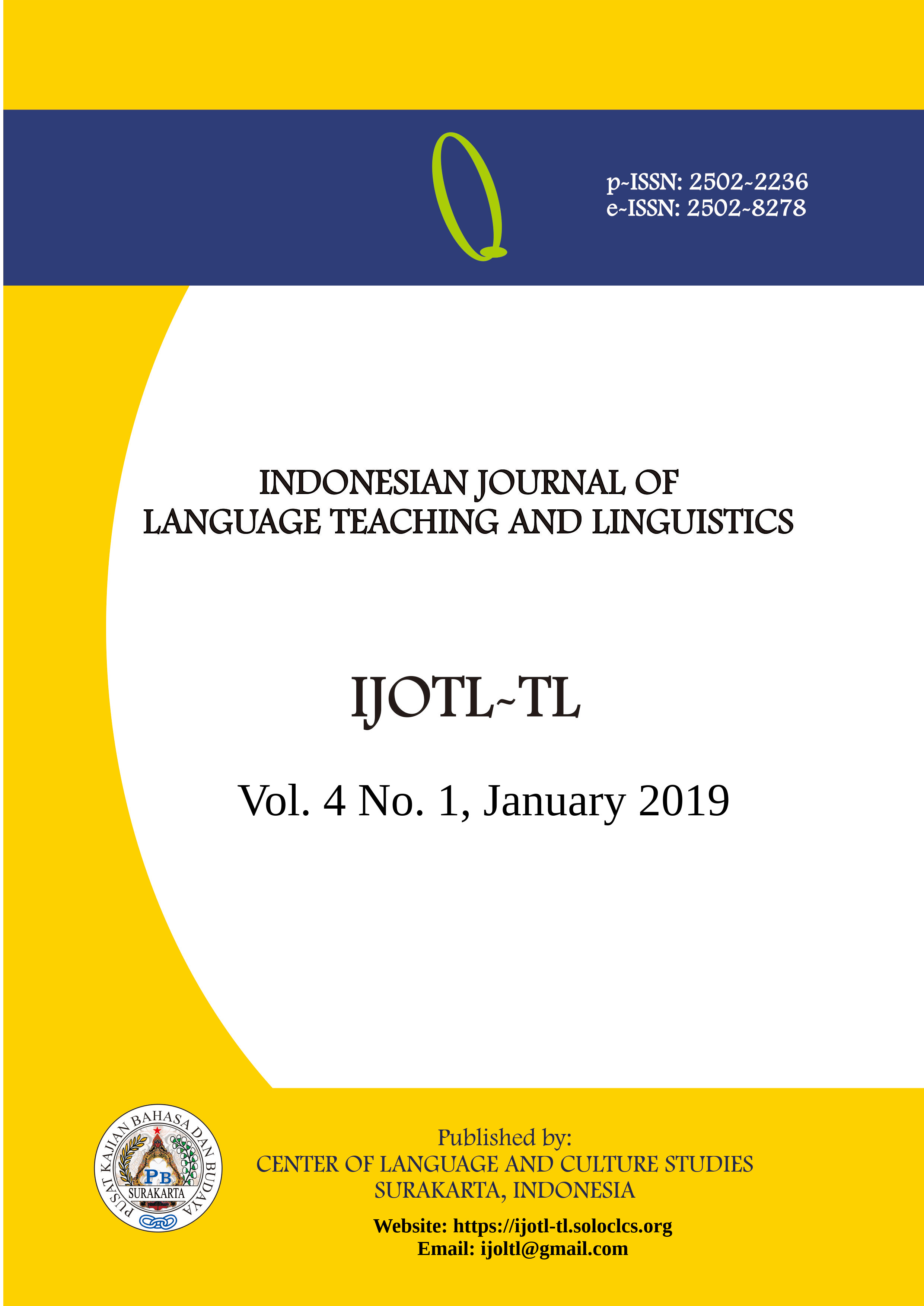 How to Cite
sujito, S., Indriana, I., & Muttaqin, W. M. (2019). CRITICAL DISCOURSE ANALYSIS ON DONALD TRUMP'S STRATEGY AGAINST HIS ADDRESSEE TO WIN THE US ELECTION. IJOTL-TL: Indonesian Journal of Language Teaching and Linguistics, 4(1), 27-38. https://doi.org/10.30957/ijoltl.v4i1.554
Authors who publish with this journal agree to the following terms:
Authors retain copyright and grant the journal right of first publication with the work simultaneously licensed under a Creative Commons Attribution-ShareAlike 4.0 International License that allows others to share the work with an acknowledgement of the work's authorship and initial publication in this journal.
Authors are able to enter into separate, additional contractual arrangements for the non-exclusive distribution of the journal's published version of the work (e.g., post it to an institutional repository or publish it in a book), with an acknowledgement of its initial publication in this journal.
Authors are permitted and encouraged to post their work online (e.g., in institutional repositories or on their website) prior to and during the submission process, as it can lead to productive exchanges, as well as earlier and greater citation of published work (See The Effect of Open Access).