STRATEGIES TO DEVELOP ARGUMENTS IN ACADEMIC WRITING BY STUDENTS OF GRADUATE PROGRAM IN INDONESIAN LANGUAGE EDUCATION SEBELAS MARETUNIVERSITY
Masithah Mahsa

UNS Solo

Budhi Setiawan

UNS Solo

Muhammad Rohmadi

UNS Solo
Abstract views:
280
,
PDF downloads:
193
Keywords:
arguments, academic writing, obstacles, solution
Abstract
There is a relationship between pattern of arguments in an academic writing and obstacles faced in writing process. This study aims to figure out the strategies to develop arguments in writing a scientific article used by the students of Graduate Program in Indonesia Language Education Sebelas Maret University. The study focuses on obstacles in writing the scientific article, and the strategies how students overcome the problem. This study is a qualitative descriptive research. The instruments were documents and interview sheet that was delivered to the author of the article. In collecting the data, the researcher used purposive sampling technique. The researcher used interactive analysis technique in order to analys the content of the data. Findings of this study showed that there were two obstacles and solution in arranging the arguments, they were internal and external aspect.
Downloads
Download data is not yet available.
References
Akhdiah, Sabarti. (2004). Pembinaan Kemampuan Menulis Bahasa Indonesia. Jakarta: Erlangga
Anam, Khairul. (2016). Kajian Dekontruksionisme dan Pemakaian Bahasa Novel Tak Sempurna Karya Fahd Djibran dan Bondan Prakoso & Fade2Black Ditinjau dari Nilai Pendidikan Karakter. Surakarta: UNS
Dikutip dari http://www.scimagojr.com/ countryrank.php
Hariwijaya N dan Triton. (2011). Pedoman Penulisan Ilmiah Skripsi dan Tesis. Yogyakarta: ORYZA
Kementrian Riset Teknologi dan Pendidikan Tinggi. (2015). Peraturan Menristek Dikti tentang standar Nasional Pendidikan Tinggi (Permenristek Dikti No 44 Tahun 2015). Jakarta: Penulis.
Keraf, Gorys. (2001). Argumentasi dan Narasi Komposisi Lanjutan III. Jakarta: PT. Gramedia Pustaka Utama
Khairunnisa. (2015). Hubungan antara Penguasaan Piranti Kohesi dan Koherensi dan Motivasi Berprestasi dengan Keterampilan Menulis Eksposisi (Survei Pada Siswa Kelas X SMK Negeri Se-Kota Purwokerto). Surakarta: UNS
Pratiwi, Artika Bekti. (2016). Keefektifan Metode Kotak Kata terhadap Kemampuan Membaca Cerita Anak Ditinjau dari Motivasi Belajar Bahasa Indonesia Pada Siswa Kelas VII SMP Negeri Kabupaten Klaten. Surakarta: UNS
Pritasari, Ade Cyntia., Sri Dwiastuti, Riezky Maya Probosari. (2016). "Peningkatan Kemampuan Argumentasi melalui Penerapan Model Problem Based Learning pada Siswa Kelas X MIA 1 SMA Batik 2 Surakarta Tahun Pelajaran 2014/2015". Jurnal Pendidikan Biologi Volume 8, Nomor 1 Februari, 2016 Halaman 1-7.
Rahmiati. (2014). Analisis Kendala Internal Mahasiswa Dalam Menulis Karya Ilmiah. Jurnal Al-daulah Vol. 3/ No. 2/ Desember 2014/ P 254- 269
Rohmadi, Muhammad dkk. 2014. Belajar Bahasa Indonesia. Surakarta: Cakrawala Media
Setyaningsih, Yuliana. (2016). Manifestasi Argumentasi dalam Penulisan Artikel Jurnal. Disampaikan pada Seminar Nasional PIBSI Ke XXXVII
Sugiyono. (2008). Metode Penelitian Kuantitatif, Kualitatif dan R&D. Bandung: Alfabeta
Tanjung, Bahdin Nur dan Ardial. (2013). Pedoman Penulisan Karya Ilmiah (Proposal, Skripsi dan Tesis) dan Mempersiapkan Diri Menjadi Penulis Artikel Ilmiah. Jakarta: Kencana Prenada Group
Tarigan, Henry Guntur. (2008). Menulis Sebagai Suatu Keterampilan Berbahasa. Bandung: Angkasa
Toulmin, Stephen., Richard Rieke, Allan Janik. (1979). An Introduction to Reasoning. New York: Macmillan Pusblishers
Wijayanti, dkk. (2013). Bahasa Indonesia: Penulisan dan Penyajian Karya Ilmiah. Depok: PT. Raja Grafindo
Wulandari, Isti., Edy Suryanto, Purwadi. (2016). Peningkatan Motivasi dengan Kemampuan Menulis Argumentasi dengan Model Pembelajaran Think Talk Write dan Media Audiovisual Pada Siswa Sekolah Menengah Atas. BASASTRA Jurnal Penelitian Bahasa, Sastra Indonesia dan Pengajarannya Volume 4 No.2, Oktober 2016 P 99-116
Xargia, Maria. (2016). A comparative analysis of Greek vs. English: Can it be argued that teenagers can argue?. Selected Papers of the 21st International Symposium on Theoretical and Applied Linguistics (ISTAL 21), 839-854 2016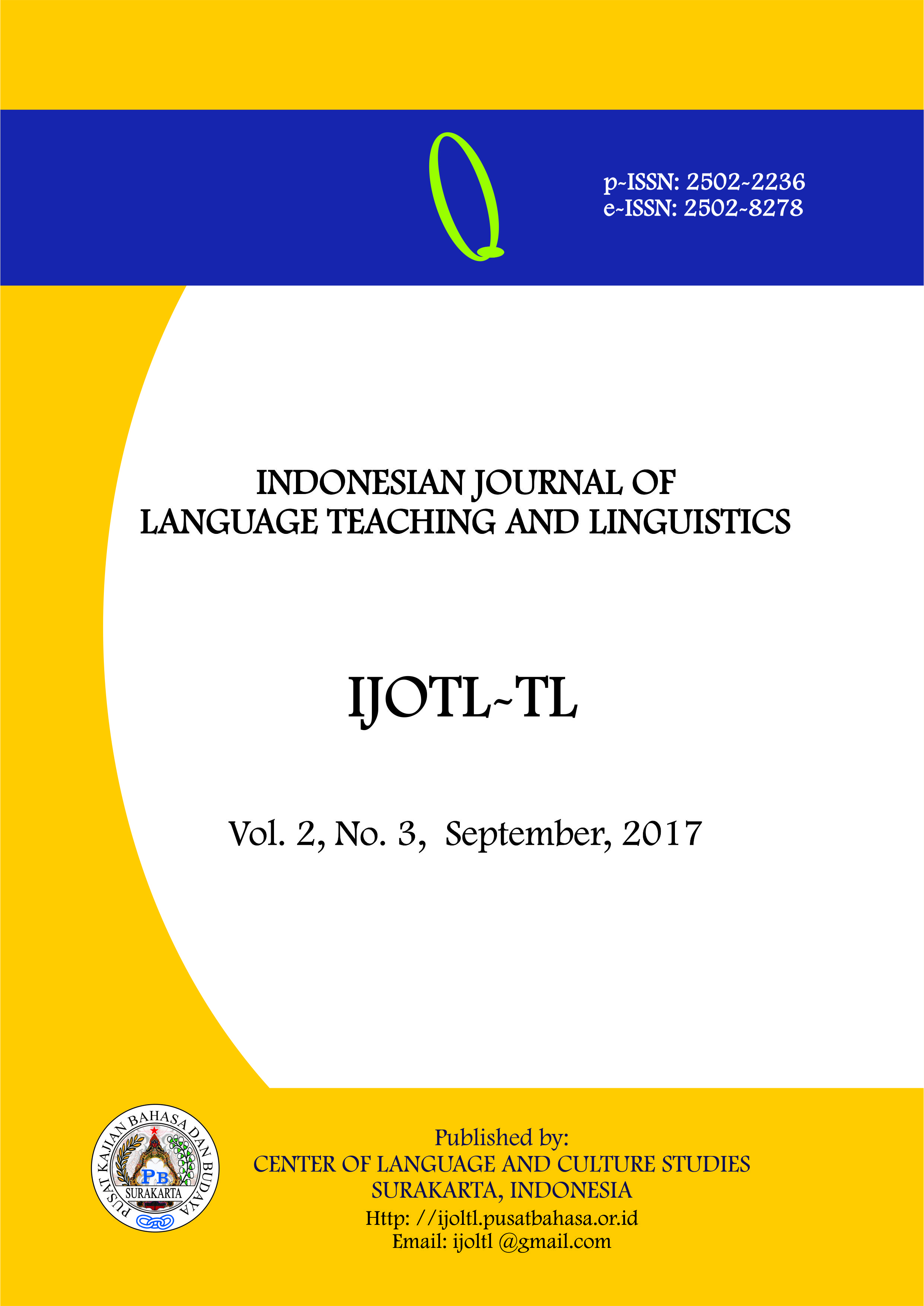 How to Cite
Mahsa, M., Setiawan, B., & Rohmadi, M. (2017). STRATEGIES TO DEVELOP ARGUMENTS IN ACADEMIC WRITING BY STUDENTS OF GRADUATE PROGRAM IN INDONESIAN LANGUAGE EDUCATION SEBELAS MARETUNIVERSITY. IJOTL-TL: Indonesian Journal of Language Teaching and Linguistics, 2(3), 177-190. https://doi.org/10.30957/ijoltl.v2i3.387
Copyright (c) 2017 IJOLTL (Indonesian Journal of Language Teaching and Linguistics)
This work is licensed under a Creative Commons Attribution-ShareAlike 4.0 International License.
Authors who publish with this journal agree to the following terms:
Authors retain copyright and grant the journal right of first publication with the work simultaneously licensed under a Creative Commons Attribution-ShareAlike 4.0 International License that allows others to share the work with an acknowledgement of the work's authorship and initial publication in this journal.
Authors are able to enter into separate, additional contractual arrangements for the non-exclusive distribution of the journal's published version of the work (e.g., post it to an institutional repository or publish it in a book), with an acknowledgement of its initial publication in this journal.
Authors are permitted and encouraged to post their work online (e.g., in institutional repositories or on their website) prior to and during the submission process, as it can lead to productive exchanges, as well as earlier and greater citation of published work (See The Effect of Open Access).