FIGURATIVE LANGUAGE IN THE ROOM OF MY LIFE'S POEM BY ANNE SEXTON AND STILL I RISE'S POEM BY MAYA ANGELOU
Ary Iswanto Wibowo

STIBA Nusa Mandiri Tangerang

Ali Akbar
Abstract views:
1635
,
PDF downloads:
1965
Keywords:
Figurative Language, Personification, Simile, Metaphor
Abstract
The aim of this research is to find out the usage of figurative language appear in The Room of My Life's poem by Anne Sexton and Still I Rise's poem by Maya Angelou. The study focused on kinds of figurative language that appeared in the poems. A descriptive qualitative method was used in this study. Data were gathered from each line of the poetry then figurative language were grounded.The results showed that the poems mostly used three kinds of figurative language: personification, simile, and metaphor. Personifications were more dominant than similes and metaphors in The Room of My Life and similes were more dominant than personifications and metaphors in Still I Rise.
Downloads
Download data is not yet available.
References
REFERENCES
Abrams, Meyer H. and Geoffrey Galt Harpham. 2012. A Glossary of Literary Terms, Tenth Edition. USA: Wadsworth, Cengage Learning.
Alex Preminger and T.V.F. Brogan. 1993. The New Princeton Encyclopedia of Poetry and Poetics. Princeton, New Jersey Princeton University Press.
Amy C. Smith. 2011. Polis and Personification in Classical Athenian Art. University of Reading, Leiden, Boston.
Annas, Pamela J. and Robert Rosen. 2007. Literature and Society, An Introduction to Fiction, Poetry, Drama and Nonfiction Fourth Edition. New Jersey: Pearson.
Barnet, Sylvan, William Burto and William E. Cain. 2008. An Introduction to Literature Fiction, Poetry, and Drama Fifteenth ed. USA: Pearson Longman.
Childs, Peter and Roger Fowler. 2006. The Routledge Dictionary of Literary Terms. New York: Routledge.
Cuddon, John Anthony. 2013. Literary Terms and Literary Theory Fifth Edition. UK: Wiley-Blackwell.
Dancygier, Barbara and Eve Sweetser. 2014. Cambridge Textbooks in Linguistics, Figurative Language. New York: Cambridge.
Grenville,Kleiser. 1925. Similes and Their Use. Grosset& Dunlap, New York.
Harreveld, Bobby, et all. 2016. Constructing Methodology for Qualitative Research. London, UK: Palgrave Macmillan.
Joseph R. Dodson. 2008. The 'Powers' of Personification: Rhetorical Purpose in the Book of Wisdom and the Letter to the Romans. Walter de Gruyter, Berlin, New York.
Patton, Michael Quinn and Michael Cochran. 2002. A Guide to Using Qualitative Research Methodology. UK : Medecines Sans Frontieres
Strachan, John and Richard Terry. 2001. Poetry, Second Edition. Edinburgh University Press.
Wellek, Rene and Austin Werren. 1948. Theory of Literature. New York: Harcourt, Brace And Company.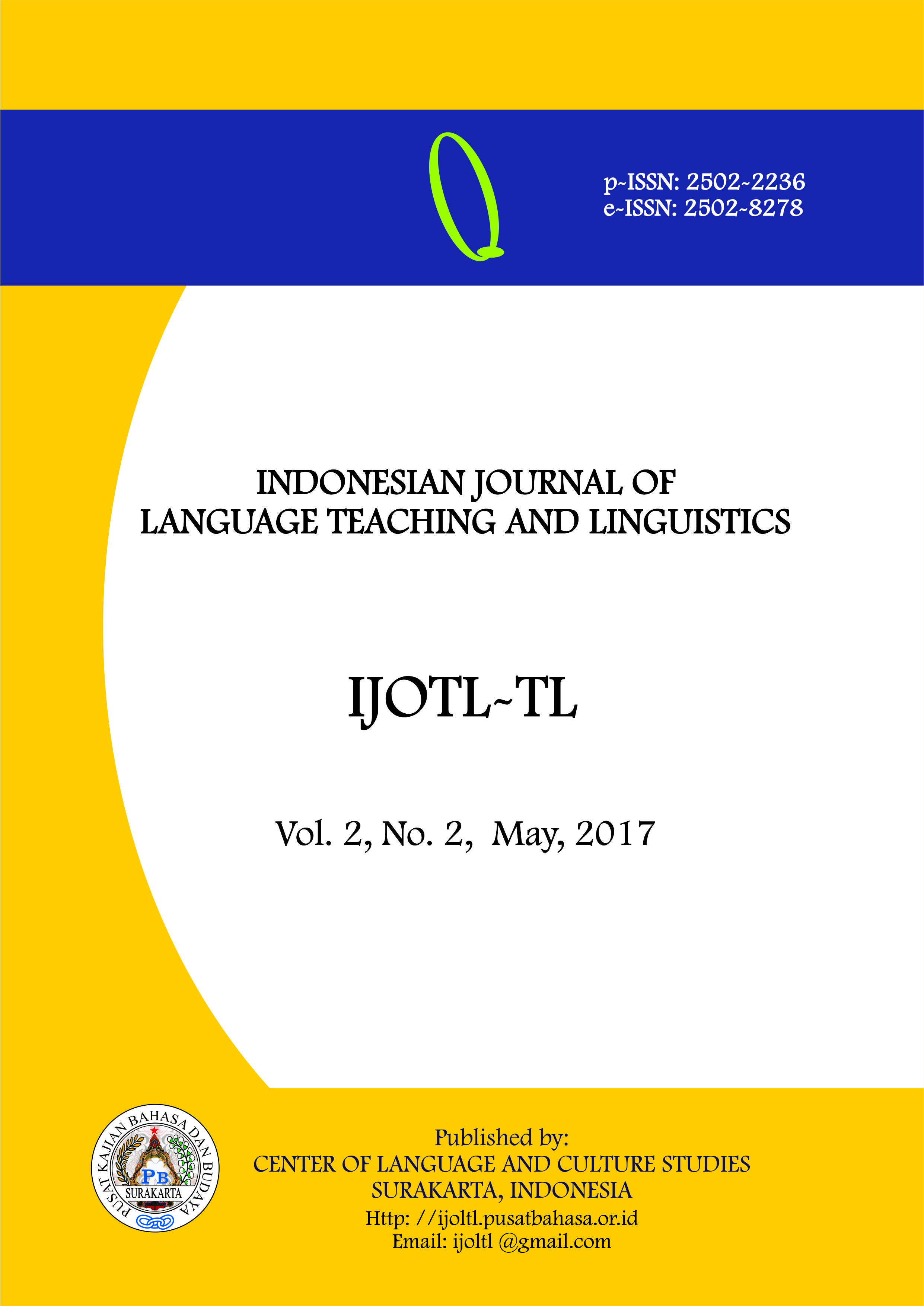 How to Cite
Wibowo, A. I., & Akbar, A. (2017). FIGURATIVE LANGUAGE IN THE ROOM OF MY LIFE'S POEM BY ANNE SEXTON AND STILL I RISE'S POEM BY MAYA ANGELOU. IJOTL-TL: Indonesian Journal of Language Teaching and Linguistics, 2(2), 117-130. https://doi.org/10.30957/ijoltl.v2i2.275
Authors who publish with this journal agree to the following terms:
Authors retain copyright and grant the journal right of first publication with the work simultaneously licensed under a Creative Commons Attribution-ShareAlike 4.0 International License that allows others to share the work with an acknowledgement of the work's authorship and initial publication in this journal.
Authors are able to enter into separate, additional contractual arrangements for the non-exclusive distribution of the journal's published version of the work (e.g., post it to an institutional repository or publish it in a book), with an acknowledgement of its initial publication in this journal.
Authors are permitted and encouraged to post their work online (e.g., in institutional repositories or on their website) prior to and during the submission process, as it can lead to productive exchanges, as well as earlier and greater citation of published work (See The Effect of Open Access).