SOCIAL PROBLEMS AS REFLECTED IN THE PREMAN, ANTHOLOGY OF THE SHORT STORY BY TIWIEK SA
Galih Dwi Purboasri

Graduate Program of Language Education and Javanese Literature Sebelas Maret University, Surakarta Jl. Ir. Sutami 36A Kentingan, Surakarta

Kundharu Saddhono

Graduate Program of Language Education and Javanese Literature Sebelas Maret University, Surakarta

Suyitno Suyitno

Graduate Program of Language Education and Javanese Literature Sebelas Maret University, Surakarta
Abstract views:
379
,
PDF downloads:
259
Keywords:
social problems, thuggery, community life, social inequety.
Abstract
This study analyzed social problems as reflected in the Preman, an anthology of short story by Tiwiek SA.  The social problems were encountered in the attitudes the characters of the stories occured.  The study used ontent analysis that use psycholinguistics as an analysis of a literary work.  Sources of the study was an anthology consisting of six short stories.  The study revealed that social conflict in the story reflected problems in social daily live where Javanese community normally faced. The problems include: thuggery, clashes, greedines, infidelity, prostitution, economy, and social inequality.  Themes of good and bad conducts also appeared as performed by the primary characters. 
Downloads
Download data is not yet available.
References
REFERENCES
Abu Hanafi dan Nur Uhbiyati. 1991. Ilmu Pendidikan. Jakarta: Qalbiymedia.
Adi, Ida Rochani. 2011. Fiksi Populer: Teori dan Metode Kajian. Yogyakarta: Pustaka Pelajar.
Atar Semi. 1993. Metode Penelitian Sastra. Bandung: Angkasa.
Burhanudin Nurgiyantoro. 2010. Teori Pengkajian Fiksi. Yogyakarta: Gadjah Mada University Press.
Globe, Frank G. 1987. Mahzab Ketiga: Psikologi Humanistik Abraham Maslow. Yogyakarta: Kanisius.
H.A Tilaar. 2000. Pendidikan Kebudayaan, dan Masyarakat Madani Indonesia. Bandung: Rosdakarya.
H.B. Sutopo. 2002. Metode Penelitian Kualitatif : Dasar Teori dan Penerapannya Dalam Penelitian. Surakarta: UNS Press.
Hasbullah. 2005. Dasar-dasar Ilmu Pendidikan. Jakarta: Raja Grafindo Persada.
Heru Kurniawan. 2012. Teori, Metode, dan Aplikasi Sosiologi Sastra. Yogyakarta: Graha Ilmu.
Idemobi, Ellis I. 2011. The Implication of Abraham Maslow's Hierarchy of Needs Theory to Business Activities in Nigeria. Afr. J. Soc, 1 (1): 168-178.
Jakob Sumardjo. 1991. Pengantar Novel Indonesia. Bandung: Citra Aditya Bhakti.
Kurniasih, Imas & Sani, Berlin. 2014. Implementasi Kurikulum 2013 Konsep & Penerapan. Surabaya: Kata Pena.
LexyJ.Moleong.2000.Metode Penelitian Kualitatif. Bandung : P.T. Remaja Rosdakarya.
Lestari, Puji Budiningrum. 2014. Kepribadian Tokoh dan Nilai Pendidikan Novel Pulang Karya Leila S. Chudori. Tesis. S2 Pascasarjana UNS. Surakarta. (Unblished)
Maslow, Abraham. 1994. Motivasi dan Kepribadian 1. (Terjemahan Nurul Imam). Bandung: Pustaka Binaman Pressindo.
MelaniBudianta,dkk. 2006. Membaca Sastra: Pengantar Memahami Sastra Untuk Perguruan Tinggi. Magelang: Indonesia Tera.
Nugraheni Eko Wardhani. 2009. Makna Totalitas dalam Karya Sastra. Solo: UNS
Nyoman Kutha Ratna. 2001. Teori, Metode, dan Teknik Penelitian Sastra. Yogyakarta: Pustaka Pelajar.
___________. 2004. Teori, Metode, dan Teknik Penelitian Sastra. Yogyakarta: Pustaka Pelajar.
__________. 2011. Paradigma Sosiologi Sastra. Yogyakarta: Pustaka Pelajar
Pulido, Dennis H. 2011. Saving the Savior: A Deconstruction of the Novel Viajero by F. Sioni Jose. Eng. J. Lang, 17(1):79-92.
Sangidu. 2004. Penelitian Sastra : Pendekatan, Teori, Metode, Teknik, dan Kiat. Yogyakarta: UGM Press.
Sapardi Djoko Damono. 1987. Sosiologi Sastra (Sebuah Pengantar Ringkas). Jakarta: Pusat Pembinaan dan Pengembangan Bahasa Departemen Pendidikan dan Kebudayaan.
Sarwono, Sarlito W. 2010. Pengantar Psikologi Umum. Jakarta: Rajawali Press
Sayuti, Suminto A. 2000. Perkenalan dengan Prosa Fiksi. Yogyakarta: Gema Media.
Soedarsono, R.M. 1985. Keadaan dan Perkembangan Bahasa, Sastra, Etika, Tatakrama, dan Seni Pertunjukan Jawa, Bali, dan Sunda. Yogyakarta: Proyek Penelitian dan Pengkajian Kebudayaan Nusantara.
Soedono Hadi. 2003. Pendidikan Suatu Pengantar. Surakarta: UNS Press.
Stanton, Robert. 2007. Teori Fiksi. Yogyakarta: Pustaka Pelajar
Suwardi Endraswara. 2011. Metodologi Penelitian Sastra: Epistemologi, Model, Teori, dan Aplikasi. Yogyakarta: FBS Universitas Negri Yogyakarta.
___________. 2003. Metodologi Penelitian Sastra. Yogyakarta: Pustaka Widyatama
Teeuw. 1988. Sastra dan Ilmu Sastra: Pengantar Teori Sastra. Jakarta: Pustaka Jaya.
Wellek, Rene. 1989. Teori Kesusastraan. Jakarta: PT. Gramedia.
Wahda, Mahmoud and Lawrence G. Bridwell. 1976. Masllow Reconsidered: A Review of Research on the Need Hierarchy Theory. USA. J. Hum, 1 (5): 212-240.
Winda Dwi Lestari. 2015. Analisis Penokohan dan Nilai Pendidikan Budi Pekerti dalam Novel Ngulandara Karya Margana Djajaatmadja Serta Relevansinya sebagai Materi Ajar Apresiasi Sastra Jawa di SMA. Skripsi. FKIP UNS. Surakarta. (Unblished)
Yudiono, K.S.2000. Ilmu Sastra (Ruwet, Rumit, dan Resah). Semarang: Mimbar.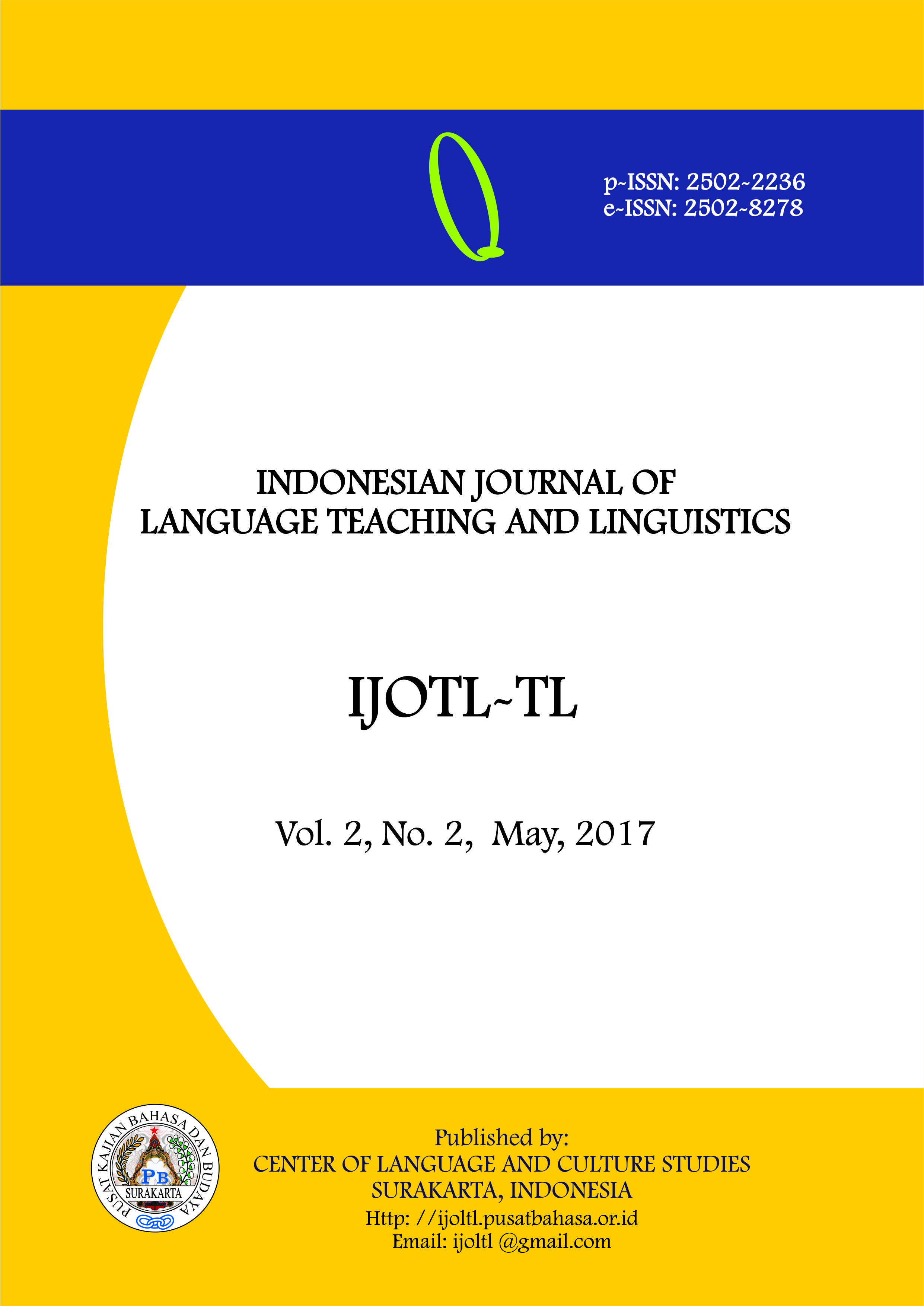 How to Cite
Purboasri, G. D., Saddhono, K., & Suyitno, S. (2017). SOCIAL PROBLEMS AS REFLECTED IN THE PREMAN, ANTHOLOGY OF THE SHORT STORY BY TIWIEK SA. IJOTL-TL: Indonesian Journal of Language Teaching and Linguistics, 2(2), 147-162. https://doi.org/10.30957/ijoltl.v2i2.281
Authors who publish with this journal agree to the following terms:
Authors retain copyright and grant the journal right of first publication with the work simultaneously licensed under a Creative Commons Attribution-ShareAlike 4.0 International License that allows others to share the work with an acknowledgement of the work's authorship and initial publication in this journal.
Authors are able to enter into separate, additional contractual arrangements for the non-exclusive distribution of the journal's published version of the work (e.g., post it to an institutional repository or publish it in a book), with an acknowledgement of its initial publication in this journal.
Authors are permitted and encouraged to post their work online (e.g., in institutional repositories or on their website) prior to and during the submission process, as it can lead to productive exchanges, as well as earlier and greater citation of published work (See The Effect of Open Access).